Commercial Equipment Repair and Service
If you are having trouble with any of your equipment we are here to help.  We have the knowledge to tackle any pool problem and will let you know the right way to fix it.  Don't waste your time guessing what the problem is, let a pool professional diagnose the problem so that you get the repair done and have your pool back up and running quickly.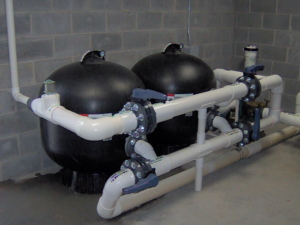 SOME SERVICES TO CONSIDER:
Pump / Filter / Heater / Heat Pump Repair or Replacement
We can service and repair almost any pump, filter, heater, or heat pump on the market.  Let one of our techs diagnose the problem and quote you a price to repair.  If your equipment cannot be repaired we can quote prices to replace with the latest version of your equipment and can get it installed quickly.
Pool School
Do you have a new maintenance manager and want to make sure they are operating your pool safely?  Consider having a tech come to your commercial facility and do a Pool School them.  In just an hour or two we can go over how to use your pool equipment properly, setup your automation or phone apps, teach you about chemistry, and more.  You can never have enough knowledge about your pool, a Pool School is a great start.
Automation
With today's technologies the sky is the limit to what you can do at your pool.  Want to monitor or even backwash your pools from your desk?  We can help make this happen.  Even the most simple tasks can take a lot of time, with automation you can reduce or even eliminate the amount of time you spend on your commercial pool management each day.
Diagnostic Fee
If repairs are done, the $89.99 will go towards the repair.
Hourly Service Visit
Billed on 30 min intervals
First 30 min billed at $89.99
Pool School
Includes up to 2 hrs on site