Commercial Swimming Pool Openings
Making sure you get your pool opened properly is a great way to ensure that you have a great swimming pool season.  We not only open the pool and de-winterize the equipment we also check over the equipment to ensure it is working properly.  Equipment that is not functioning at 100% will only cause you problems throughout the season.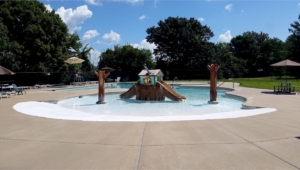 ADDITIONAL SERVICES TO CONSIDER AT YOUR OPENING:
Pool Cover Cleaning
We can remove your cover from your facility and store it at our warehouse facility.  We will also clean it off and let it dry before long term storage.
Full Chemical Stabilization
At the start of every season it is important to not only check the chlorine and pH but also the total alkalinity, calcium hardness, and cyanuric acid.  These do not change as quickly as chlorine and pH but if they are not in balance your pool could go GREEN!  Chemistry is a very important part of the pool triangle (Pool Triangle – Flow, Filtration, Chemistry), ignoring these other values would not be wise.
Additional Cleanings
If your pool is just not looking that great and you want a professional to clean and balance it, we can do that.
Chemical Delivery
If you need us to bring out additional chemicals when we do the opening that is no problem.  Please mention this at the time you setup your opening.
Standard Opening
$
399
99
Starting At For Commercial Pools
Includes 20 minutes of cleaning
Add a Clean & Store Cover for $185
Opening Plus +
$
499
99
Starting At For Commercial Pools
Includes 20 minutes of cleaning
Includes 1 Additional Cleaning Visit
Add a Clean & Store Cover for $185
| Swimming Pool Service | Price | Details |
| --- | --- | --- |
| Clean & Store Cover Service | $285 | |
| 1 Hour Pool Cleaning | $79 | Chemical not included |
| Chemical Delivery | Free Delivery | Call about chemical prices |