Residential Swimming Pool Led Lights Service & Repair
Having working pool lights is a very important safety feature if you want to use your pool at night.  Having a pool party?  Their is no better way to show off the pool and add some fun to a party than with color changing pool lights.  We offer incredibly efficient color-changing LED lights to replace those old worn out lights you have.  Still using 120V pool lights?  We can change these over to a safer 12V version, so you know that your friend and family are always safe.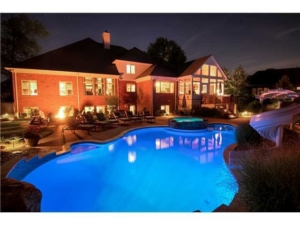 ADDITIONAL THING TO CONSIDER ABOUT YOUR POOL LIGHTS
120V vs. 12V
Until recently standard pool and spa lights were 120 volts, this can cause a safety issue if the light, bonding, or circuit breaker failed.  By using 12 volt lighting in your pool you get the added security that you are not accidentally putting high voltage into the pool water. If you want to consider changing to 12V let us know and we can help.
LED vs. Incandescent
With today's LED technology getting better and cheaper, there has never been a better time to change those old power hungry pool lights.  The added plus is that you can easily add color changing as an option.
Old Underground wiring and conduit
Sometime it is not possible to pull the new wires through the old conduit making it impossible to replace the lights without further work.  If you have this problem we can help.  We can give you an estimate to replace the old wiring and conduit and replace it with modern and up to code wiring.
Change out 500W, 120V Bulb and Gasket
Light Nitch must be in good working condition
Light housing must be in good working condition
LED Replacement White Underwater LED Pool Light
120 Volt, 50 Foot Cord
500 Watt Equivalent
Cord must pull freely
LED Replacement Color Underwater LED Pool Light
120 Volt, 50 Foot Cord
500 Watt Equivalent
Cord must pull freely
Convert To LED 12v
Transformer Required
Available in White or Color Changing
Cord must pull freely
| Swimming Pool Service | Price | Details |
| --- | --- | --- |
| Clean & Store Cover Service | $185 | |
| 1 Hour Pool Cleaning | $59 | Chemical not included |
| Chemical Delivery | Free Delivery | Call about chemical prices |